First Appointment
At your first appointment Professor Kohan will take a thorough history and perform a detailed examination of the hip and/or knee joint(s) to determine the impact your condition is having on your everyday life. You may be referred for further X-rays, an MRI or other tests to confirm the diagnosis.
To ensure that your first visit to see Professor Kohan is of maximum benefit, please remember to bring the following:
Referral letter from your family doctor
An up to date list of any medications you are on
Any relevant operation records (in particular planned or past dental procedures) or physiotherapy reports
Any relevant old or current X-ray films, bone-scans, MRI films or other relevant tests
Contact details of your Cardiologist (if applicable)
Wear clothes that will allow easy access to the affected joint during the clinical examination
Your Medicare card and Private Health Insurance details
Your current pension card if you are a pensioner
If your condition/injury is work-related, please bring your workers compensation details including your claim number, insurer, and case manager's contact details.
Referrals
The Orthopaedic Centre is a Specialist clinic so patients do need referral from their General Practitioner, family physician or other doctor to make an appointment with Professor Kohan.
Referral letters from a GP or Specialist will allow you to claim the medicare rebate for the consultation.
You can make an appointment without a referral HOWEVER you will not be able to claim a medicare rebate for the consultation fee or surgical fee.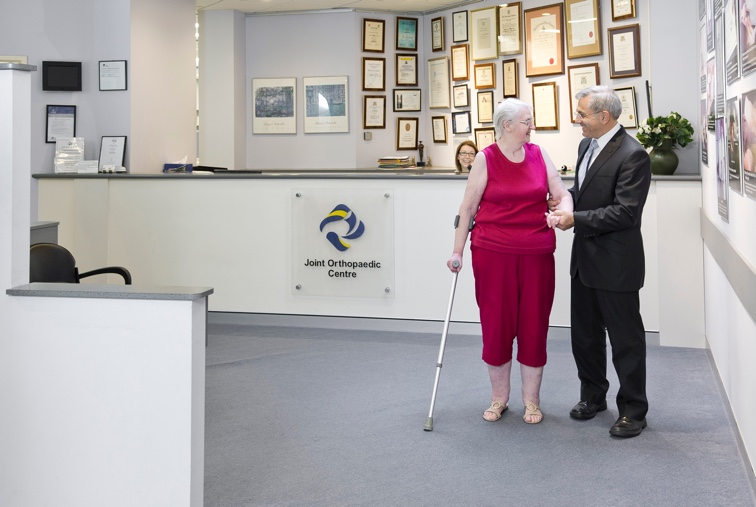 Fees
The following is a guide to the fees charged by The Joint Orthopaedic Centre. Please do not hesitate to contact our staff on 02 9387 2877 if you require further information or assistance.
Generally our 'Estimate of Fees' is accurate however, on occasion unexpected events can occur during the operation which can alter the nature of procedure and necessitate changes in the fees. This will be explained to you after the operation should it occur.
Estimate of Fees
Each consultation attracts a fee which is reimbursed in part from Medicare. The consultation fee will be advised to you at the time of booking your appointment.Upon payment, you will be given a receipt so that you can claim part of the fee back from Medicare.
If you require a surgical procedure a detailed outline of Professor Kohan & his surgical team's fees will be provided as well as an estimate of out-of-pocket expenses. You will meet with Dr Kerr, the anaesthetist before your operation so that you can obtain an estimate of his fees also.Procedures vary in complexity, difficulty and duration and these are all factors that determine out-of- pocket expenses. Please check with your Private Health Insurer regarding whether an excess is payable to the hospital under your level of cover.
Please note: as with any surgical procedure there may be unforeseen circumstance in theater that changes the duration of your operation or type of procedure performed. These changes although rare would change the nature of your surgery and may impact on the final cost of your operation.
If you have your claim number, your consultation and operation fees will be charged directly to your workers compensation insurer with no personal charge to you.
If you have a valid DVA number, your consultation and operation fees will be charged directly to the Department of Veterans' Affairs with no personal charge to you.
Payments
We accept cash, personal cheque, bank cheque, money order, VISA, MASTERCARD or EFTPOS.